Free Admissions Consultation With Purchase of 5 Books!
To University and Beyond: Launch Your Career in High Gear delivers a step-by-step guide to accelerate your career, optimize your time, and build valuable and rewarding relationships.
Perfect for high school, college, and graduate school students who want to start their career on the right foot, To University and Beyond provides a wealth of actionable advice you can put to work today:
Thrive in a virtual learning environment (updated for COVID-19)
Write the perfect resume or CV
Get paid to learn: free and salaried options, instead of traditional degree programs
Access rarely used scholarships and grants
Easy career kickstarts that most people don't do
Find selective short-term learning programs and exclusive communities for ambitious students
Take advantage of the first 30 days of your new job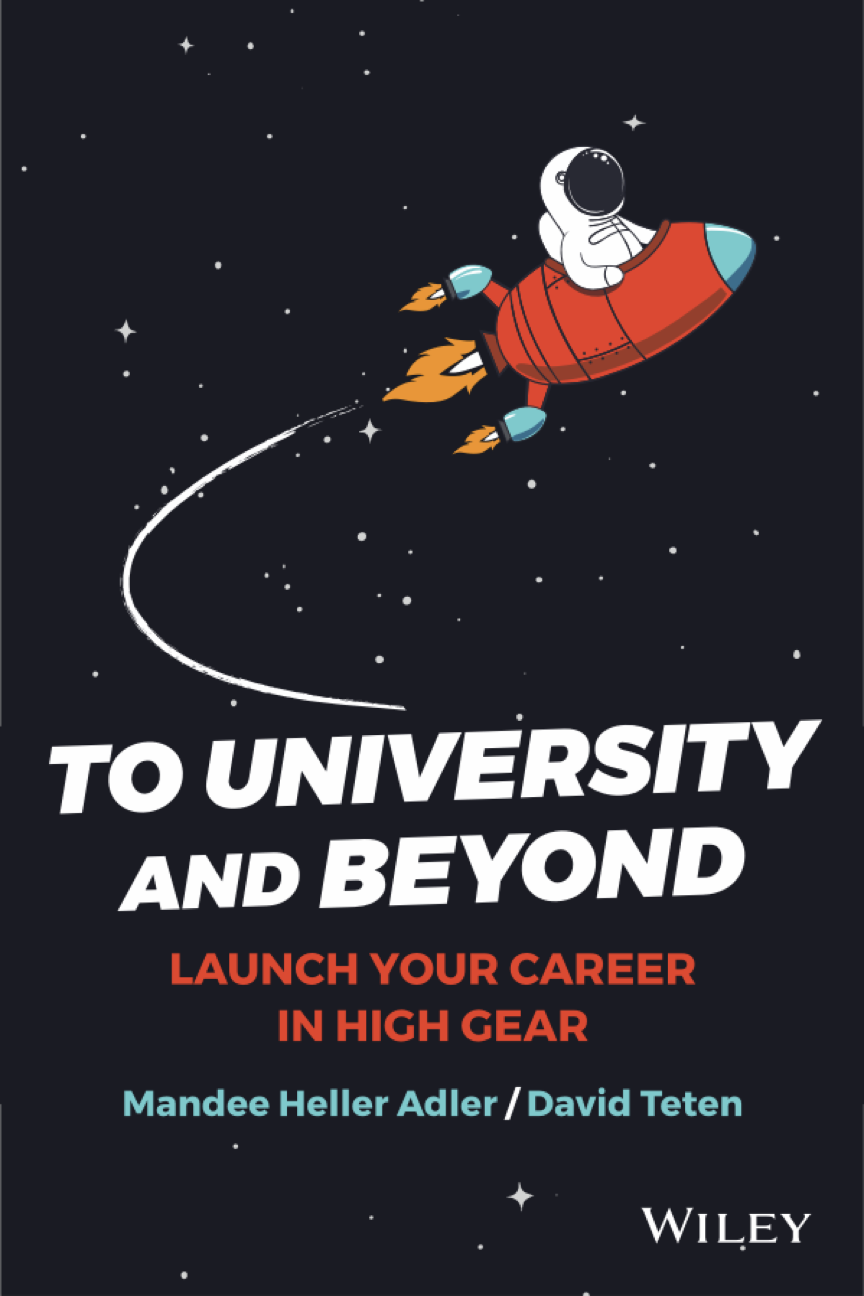 Order Now:
Buy 5 books, get a free 30-minute graduate or undergraduate admissions consultation.
Free college admissions advice!
Author Bios
Mandee Heller Adler is the Founder and Managing Partner of International College Counselors, LLC, and its subsidiarity Edit the Work. International College Counselors (ICC) is one of the world's largest educational advising business, working with clients from over 30 countries and across 20 U.S. states. Mandee is a graduate of the University of Pennsylvania where she graduated with Honors and two degrees—one from the Wharton School and one from the College of Arts and Sciences. She also received an MBA from Harvard Business School.
David Teten is CEO of Versatile VC, a New York venture capital firm. He was previously a Managing Partner with HOF Capital; a Partner with ff Venture Capital; and Founder of Harvard Business School Alumni Angels of Greater New York, the largest angel group on the East Coast. He was previously Founder and CEO of Circle of Experts, an investment research firm acquired by Evalueserve. He was an M&A investment banker at Bear Stearns and a strategy consultant with Mars & Co in Brazil, Chile and the U.S. David holds a Harvard MBA and a Yale BA, both with Honors. He writes at teten.com.
To University and Beyond is the book that I wish I'd had as I was entering college and then embarking upon my own career. […] How I wish every newly minted college graduate I ever hired would have read To University and Beyond and done what Mandee and David recommend! This is by far the most practical guide to help you find early career success.
– Patrick Mullane, Executive Director, Harvard Business School Online
My assessment of candidates has always been less quantifiable and based more on a gut feeling. Mandee and David have captured and organized the exact qualities that I'm looking for. Better still, they give specific instructions on how to obtain and demonstrate the experience that admissions and talent acquisition professionals like me are seeking.
– Debbie Fredberg, Talent Acquisition Manager, Boston Consulting Group, Former Assistant Director of Admissions, Harvard Business School, Former Associate Director of Career Development, MIT Sloan School of Management
After reading this book, students will know not only what it means to be in the driver's seat of their education and professional careers, but also what it looks like to play an active role in their own success.
– Congressman Peter Deutsch, Member of the US House of Representatives (1993-2005)